Archive for the 'Welfare' Category
My experiences of volunteering with PSD Nepal, nr Baglung, August- September 2013.
Dates Overview
30th July: Arrived from Manchester to Kathmandu,  Nepal.
1st August- 4th August: Training with PSD Nepal in Dhulikhel.
5th & 6th August: Travelling with overnight stays in Kathmandu and Baglung bazaar
7th August – 10th September:  Volunteering in Majkatara village, Dhamja, Baglung, 5 weeks
11th September: Project wrap-up  and evaluation.
12- 29th September: Independent backpacking in Nepal.
Introduction
This summer, I spent a fascinating 5 weeks volunteering with 'PSD Nepal' through the student-run charity 'Oxford Development Abroad'. Our team of 4 Oxford students plus a Nepali counterpart stayed with a host family in the village of Majkatara, near Baglung in the foothills of the Himalaya. We were warmly welcomed into the community resulting in successful completion of our projects and for us, a truly eye-opening experience.
I arrived into Kathmandu on the 30th July and my volunteering placement began on 1st August with a 4 night training course in the town of Dhulikhel run by PSD Nepal for the 12 ODA volunteers. This was highly valuable, giving us 15hrs of Nepali language training in small groups alongside sessions on cultural awareness, medical advice, teaching practice and practical and village specific information and an opportunity to meet our 'counterparts', Nepali volunteer translators.
Host family and village
Our village, called Majkatara, was remote and only accessible by a 3hr steep and slippery jeep journey, especially difficult given July-Sept is the monsoon season which results in further deterioration of the track. However, and admittedly surprisingly given several hair-raising moments, we arrived safely and walked the final stretch into the village accompanied by many excited children to be greeted by our extended host family. Our host family consisted of a relatively elderly husband and wife, and two of their five daughters; Mina, a young widow and chairperson of the local Samjhana Women's group, and Parvati, the youngest daughter and her 2 month baby staying whilst her husband was away serving in the army. The language barrier and basic way of life presented challenges at times but living with our host family was one of the most enjoyable aspects of our stay. It allowed us to integrate more deeply into the village and gave us many opportunities for laughter and new experiences as we participated in everyday activities including cooking, carrying dukho of buffalo feed, wearing saris and harvesting corn. We were very grateful for the generosity and kindness of our family and wider community.
The extended host family gathered for the Teej Festival  Majkatara
 Community Service/ Voluntary work
My volunteering consisted of mornings teaching 6 days a week at local primary schools and the afternoons were spent constructing 15 soak pits and 10 smokeless stoves, repainting the 2 schools, and establishing a new drinking water standpipe for houses at the base of the village.
Construction Projects


Soak-pits are best described as large concrete outdoor sinks, enabling more hygienic washing and storage of cooking pots as they can be regularly scrubbed clean to reduce bacteria and are distinct from sanitation water or public bathing taps. Smokeless stoves are built with mud, dung and strengthening iron rods and are highly effective, reducing smoke output by 70% and consequently reducing the damaging effects of long-term smoke inhalation on health. It is estimated that without smokeless stoves, cooking every meal is equivalent to smoking 200 cigarettes.
Throughout the construction activities we worked as unskilled labourers alongside local skilled workers and spent much of our time defying local perceptions about the construction  abilities of girls, mixing vast quantities of concrete and plaster, carrying water, mud and rocks,  breaking stone with hammers into gravel and when possible, helping with the plastering.
Under the watchful eye of Mina, our skilled labourer, we could be involved throughout the very messy but fun process of the smokeless stoves building. We mixed the mud with very fragrant fresh buffalo dung with bare hands (or feet!), made bricks, built the stove's walls and chimney, and completed the plastering. We quickly accepted the vast quantities of buffalo dung involved which found its way under every fingernail and into the creases of our clothing and even more surprisingly, got used to its smell! The construction work was often tiring, but each soak-pit and stove will last for many years and is much needed to gradually but sustainably improve quality of life, especially for women. We owe a great deal to the skilled manpower for their patience in the early part of the project and their high quality, on time, efficient hard work throughout.
Teaching
We taught children aged 6-14 in two schools and over the weeks I grew in confidence and ability, enjoying planning new lessons and happily taking several lessons singlehandedly when my teaching partner, Natasha, was ill.
The Majkatara village school, Nirmal Primary, was a basic, fairly small school where we taught mainly English and some practical environmental lessons. The students were keen and enthusiastic, especially loving our interactive and fun teaching style, including games, songs, pictures and props. It would be unrealistic to expect this teaching style to be immediately copied by the Nepali teachers but we hope to have encouraged the teachers by example and simply interested the students in learning. In contrast Shree Shivalaya Primary, in the nearby village of Sima was a better organised, English language school and the difference in quality of education between the schools was often difficult to accept. We focused on non-curricular environment/science lessons ranging from the water cycle to earthquakes to hand washing and disease, encouraging lots of questions and demonstrating the relevance of their learning to the world around them, something disappointingly absent in their current education. Additionally, we taught basic English to an ammaa class, a group of 20 village women aged 35-50 who deeply impressed us all in their determination to gain a basic education. Abilities and handwriting speed ranged widely, but their appreciation of our work made our efforts hugely rewarding.
Using fundraised money for materials and equipment from our microfund, we organised a hugely enjoyable team sports afternoon at Nirmal Primary and later for the Shivalaya Women's class, who had heard the reports and felt they had missed out on the fun! We also ran an Art competition with the theme of 'Nature' in both schools which challenged the students to think creatively using as many leaves, twigs, flowers etc as possible. When the masterpieces were  hung from the classroom beams, it made a colourful improvement to the school. In our final lessons, we also built a tree of hands of future job ambitions with every class. Any form of drawing or creativity is rarely encouraged in school so these days provided a welcome change.

Reflections
Whilst we experienced difficulties during our volunteering, mainly due to feeling ill, frustrating miscommunication and delays due to weather, these times are more than outweighed by many wonderful experiences. Adapting to a challenges of new way of life for a summer, complete with ice-cold waterfall showering, endless dhal bhatt (rice, lentils and veg curry), rock-solid beds, power cuts  and lack of privacy has in return given me an inspiring insight into a friendly, enthusiastic community and their beautiful village, into joys of volunteering and into practical international development work. I have learnt many valuable life skills in a way that a textbook simply cannot teach and will continue my studies in Geography revitalised with a refreshed perspective thanks to my travels.
My deepest thanks goes to the Wetherby Lions Charitable Trust, Boston Spa and Tadcaster Round Table / Worcester College Travel grants for their generous help for making this experience possible both on a personal level and on behalf of the many families benefiting from our projects.
The current state of the economy combined with budget cuts have meant less revenue for many of the charity organisations on which local people rely for help.
One of those affected was Talking Spaces – a service organisation providing help and well-being support for men and women with mental health issues in the local community across Harrogate, Wetherby and the surrounding areas.
They were faced with abandoning some of their counselling courses but when Wetherby Lions Club heard this they stepped in with a donation to keep things moving.
Lizzie Rosewood -Manager – and Carol Rowe – Fundraising Volunteer – of Talking Spaces
looking at their "Anger Manager for Men" leaflet
Lizzie Rosewood – Manager of Harrogate based Talking Spaces – said,  "We are really grateful to Wetherby Lions for their financial support.  It will enable us to continue offering our valued Counselling Services and Support Groups to those in need of help.  We are already preparing our next 'Anger Management for Men' counselling course.  Our services are free of charge and open to anyone".
Information on all of the Counselling and Support Groups organised by Talking Spaces is available by email from lizzie@harrogatecvs.org.uk or by telephoning 01423 505676.
Wetherby Lions President Mike Earle (left) is pictured receiving a cheque for £25,920 from John Taylorson, MBE, organiser of the Great Yorkshire Bike Ride (GYBR) at a recent presentation evening held at Headingley Stadium.
The GYBR from Wetherby to Filey takes place in June each year, involves over 1,500 riders, and Wetherby District Lions Club has been assisting with the event organisation for many years. The 2012 event, which was on 16th June and which raised over £137,000, was the 29th GYBR, and during this time it has raised over £2.2m for Yorkshire charities – a fantastic achievement by John Taylorson and his dedicated team.
Lion President Mike Earle said " Wetherby Lions Club is proud to be associated with such a wonderful event, and the money we receive each year contributes enormously to the funds at our disposal to assist local, national and international good causes".
Next year's 30th anniversary GYBR is on Saturday 15th June 2013 – details at
www.gybr.co.uk
.
Wetherby may not be a coastal resort but, like many thousands of other families, local folk often enjoy leisure time at one of Yorkshire's East Coast resorts sailing, walking the cliff tops or just strolling by the sea.
However, the recent bad weather is a reminder to us all of the trauma and distress that water can bring.
That is why the volunteers of the Royal National Lifeboat Institution are on 24 hour standby to provide help to those in need of help up to 100 nautical miles from our coast.
For this reason Wetherby District Lions Club have made a donation to RNLI and Jenny Wade (Chair of welfare projects) said "Lifeboats crews have been the mainstay of RNLI since 1824 and their work today is just as important as ever.  They provide sea rescue, beach rescue, inland rescue and – since the events of recent years – flood rescue   We are grateful for the work they do and the lives they save and we are pleased to help them with our donation".
The RNLI say their lifeboats are launched thousands of times a year and rescue an average of 22 people a day, in some of the toughest conditions imaginable.
The Wetherby News recently reported on the campaign by Rachel Shepherd, a Walton mum, to help her daughter Francesca to overcome a rare genetic disorder which prevents her from speaking.
Because Leeds City Council denied Francesca funding for her treatment and therapy Rachel appealed to the community for help and after reading our story,  Wetherby Lions responded by making a generous contribution of £2,000, which has helped Francesca make an immediate start with her therapy.
Lion President Mike Earle said; "The Club was delighted to give our support to this little girl and we hope that the specialist therapy she receives will lead not only to Francesca learning to speak but will also help overcome her other disabilities to live a fuller life".
Francesca's mum hopes that the she will be able to secure continued support from the community to enable Francesca to continue with her therapy and will appeal Leeds City Council's decision.  Rachel's campaign has the support of Wetherby town mayor Alan Lamb.
Read more about Francesca: Read the rest of this entry »
Leg injuries, periods of convalescence, a visit to Wetherby by family members with limited mobility are all reasons that residents of Wetherby find themselves with a short-term need for a wheelchair.
One of the lesser-known services offered by Wetherby Lions is the loan of a wheelchair to people in these situations.  We have a stock of six wheelchairs, all available for collection by arrangement if you contact Lion Colin Gaden on 01937 581652 or by using the contact form on our website at wetherbylions.com.
We make no charge for this service but find that many people make a token donation to offset our maintenance and running costs.
Wetherby Lions were pleased to welcome Yorkshire district governor Ian Thornhill on his official visit to their recent club meeting at the Bridge Inn, Walshford.
Lion Ian heard about a number of donations to be made by the club in respect of the Learning to Listen Autism Programme (£1,000), a holiday for a disabled person (£500), support for Acorn Activities for Alzheimer sufferers (£500), a donation to Carers Resource (£500) and a £1,000 in support of the Sadie Rose Clifford Appeal.
He also had the opportunity to induct new member Tony Challenor into the club
District Governor Ian Thornhill, new member Tony Challenor and Vice President Mike Earle
On The following Monday, 27th February members had the opportunity to visit Sicklinghall-based Learning to Listen and present a cheque for £1,000 to this organisation, which offers an Equine Assisted Mentoring Programme for Children on the Autism Spectrum.  They heard how it connects with, mentors and coaches children with autism to help develop their individual and unique qualities via the medium of working with horses while providing help and support for their families.  The effectiveness of the programme is monitored by Learning to Listen and North Yorkshire County Council while pupil progress is monitored by the participating schools.
Club members pictured with Learning to Listen's Sarah Kreutzer and Maxine Forster and two year-eight pupils from Wetherby High School who benefit from the programme.
You can learn more about Learning to Listen at learningtolisten.co.uk.
Lions are reconstructing the Notre Dame School in Port-au-Prince, Haiti, with Lions of District 103-SW, France. The school will serve 361 disadvantaged students. Two years later, learn how Lions and LCIF continue to rebuild hope in Haiti through long-term relief efforts.
US$35,000 has been awarded to Lions in the Philippines, to assist with relief efforts following Typhoon Washi. Lions are sponsoring several relief operations to provide blankets, food and water throughout the city, particularly in the hardest hit areas of Iligan City and Cagayan de Oro City.
Lions have renewed their commitment with the World Health Organization to strengthen efforts through SightFirst-funded programs to fight preventable blindness.
See all grants recently approved, find out about our grant program areas or locate grant applications.
On Sunday evening, 14th November at the Leeds Carnegie Stadium GYBR organiser John Taylorson MBE reported on the 2011 event which has now surpassed its £2,000,000 target for sponsorship raised over its 27 year history.
He paid tribute to the cyclists who raised over £144,000 this year and his support team who are mostly close friends who have been with him from the start of the event.  He thanked the numerous sponsors of the event who provide various facilities such as vehicles, food and finance and the charity volunteers who provide marshals and staff at the start, along the way, at drinks stops and at the finish.
Individual and group sponsorship successes were recognised with trophies, while the beneficiary charities received cheques and explained the uses to which they would put the generous donations.
Wetherby Lions Vice President Mike Earle accepted our cheque which we will share with other Lions clubs and organisations who assist us on the day or are part of the pre-planning which we undertake in the run up to the day.
Inspired to enter next year's event?  Then go to gybr.co.uk, read more about the Great Yorkshire Bike Ride and bookmark the site to return in February 2012 and enter – but be quick.  Entry numbers are limited for obvious safety reasons and they go quickly.
The slideshow below details the donations that the club made in the year ending June 2011.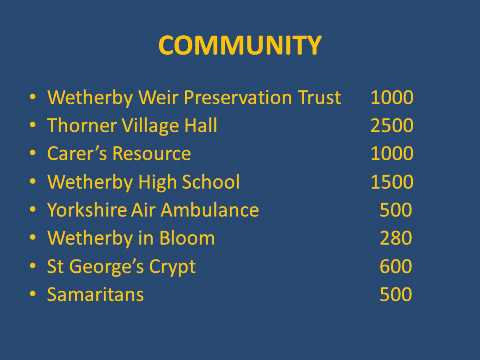 Download John Taylorson's press release of 22nd November [pdf format]
Lion President Stuart Arnold, accompanied by three club members, visited YAA's Air Support Unit to present a £2,000 cheque to their charity fundraisers.
The donation comprised the money raised by participants in the Lions Pram Race in July; Sicklinghall school, Wetherby Tennis Club, the Windmill at Linton, Castlegate Stationery, HMP Wealstun, Wetherby Musical Theatre Group and Wetherby Police which amounted to £1,025.62.  It was matched by the Lions Charitable Trust to total £2,000.
The subsequent guided tour included seeing the BBC's permanent facility for producing the television programme Helicopter Heroes, Helimed 99 itself and the operational side of the YAA.  One little known fact to emerge was that the YAA takes a proactive role by monitoring 999 ambulance calls and offering its services for suitable calls rather than waiting to be summoned.
The YAA is a charity supported totally by donations and needs to raise £2.65 millions per annum.
You can read about the Yorkshire Air Ambulance at yaa.org.uk